Though slow to adopt, proton therapy is making waves in the progression of cancer treatment as more centers and new technologies dedicated to the practice enter the market in the U.S. and abroad, raising the bar for what is or will be possible for cancer care in the next few years.
Here is a list of the top five proton therapy current events from 2018.
At ASTRO, Varian introduces smaller footprint proton system, talks 'flash' therapy
Cutting irradiation time by 75 percent became possible with the introduction of Varian's ProBeam 360°.
Debuting this past fall at ASTRO
, the single-room PT system offers a 30 percent lower footprint than its predecessor, reducing vault construction costs by approximately 25 percent. Even more important is the access it is expected to provide to flash therapy, a treatment that applies high doses at ultra-high speeds in less than a second, and can be delivered in one to three sessions. The subject is the main focus of Varian's new research initiative, the FlashForward Consortium.
"The real mission of the consortium is to help us advance that therapy into clinical use," Bill Hansen, strategic initiatives director for Varian, told HCB News at the annual meeting. "They'll help with the preclinical work that we're doing now, which we will not only continue but expand in terms of the various preclinical tests we're doing with animals. We'll prepare for the first clinical trials in humans, and the consortium will help us define what those clinical trials should be. We'll probably pick one or two disease sites where we'll start those trials."
Is low cost Proton-to-Carbon Heavy Ion radiotherapy coming soon?
Another up-and-coming treatment expected to come from progress made in proton as well as radiation therapy is carbon heavy ion radiotherapy, as demonstrated earlier this year by Best Particle Therapy.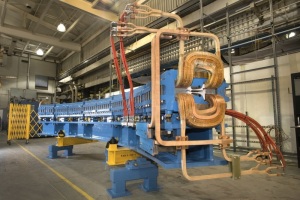 The division of TeamBest Companies
announced its plan in May to construct a Proton-to-Carbon Heavy Ion system
for highly precise, conformal and hypofractionated radiation therapy. Composed of variable energy and heavy ion treatment technologies, the 400 MeV ion Rapid Cycling Medical Synchrotron (iRCMS) will offer a more advanced form of cancer treatment, compared to current options.
"Our technology is the most sophisticated and yet the simplest solution, providing the most precise, conformal and hypofractionated radiation therapy of five fractions, compared to the range of 30 to 40 fractions found in proton, X-ray, and gamma external-beam radiation therapies," Krishnan Suthanthiran, founder and president of TeamBest Companies and the Best Cure Foundation, told HCB News at the time.
BPT plans to release its 400 MeV iRCMS in two to three years' time.
Patient denied proton therapy dies, family received $25 million in court
While considered effective and more precise in targeting tumors, proton therapy still faces challenges, namely coverage for such procedures from insurers.
One family learned this, sadly, through the loss of their wife and mother, Orrana Cunningham, to stage 4 nasopharyngeal cancer. Diagnosed in 2014, Cunningham was recommended to undergo PBT by her doctors who saw the treatment as far more effective for her than radiotherapy. Her insurance provider, however, disagreed, viewing the treatment as "experimental" and denying her coverage. She and her husband worked to raise funds for her to receive PBT but were unable to obtain the money in time, as Cunningham passed away in May 2015.
Her family subsequently
sued the insurance provider
, with an Oklahoma court ruling this past November in the clan's favor and awarding it $25 million.
"While coverage policy is an important tool that can reduce inappropriate use of medical technologies, it can also create barriers to evidence development," Bekelman, a senior fellow and an associate professor of radiation oncology and medical ethics and health policy at the Leonard Davis Institute for Health Economics at the University of Pennsylvania's Perelman School of Medicine, told HCB News in an op-ed.
Proton therapy comes to New York City: Behind the scenes at the NYPC
While insurance may be a challenge, the greater availability of centers is helping to address it by spreading awareness and education about the field of proton therapy, as well as create greater access to its benefits for more patients.
Such access will soon be available to those living in the state of New York with
the opening of its first proton therapy facility, the New York Proton Center
.
Located in Harlem, the three-story, four-treatment-room facility is expected to eliminate the burden of traveling to out-of-state proton therapy centers in New Jersey or Pennsylvania, as well as associated issues such as costs for lodging or obtaining time-off from work.
"Our goal is to really serve the greater New York marketplace," Jonathan Weinbach, chief financial officer of New York Proton Center, told HCB News during a tour of the facility back in October. "We envision that the majority will come from the New York metro area. We're going to treat the patients who need proton therapy the most and who get the most from it."
An opening date for the facility is expected for sometime in February or March 2019.
Hitachi to install its first single-room compact proton therapy system
Also a first is the
opening of a Hitachi compact proton therapy system
at the planned Shonan Kamakura Advanced Medical Center in Japan.
Slated to open in September 2022, the center will comprise a four-story building with one basement floor, encompassing the location of the hospital's work in proton therapy along with boron neutron capture therapy, radioisotope therapy, drug discovery research and PET support.
The single room system itself will possess spot scanning technology for treating certain forms of cancer and a full rotating gantry with cone beam CT for precise patient positioning to sustain high-performance technologies in a minimized footprint. Its main feature, however, will be its 70 percent reduced footprint, a quality that has grown in demand and expanded the desire for one-room systems among proton therapy users worldwide.
"We have recently seen a trend for more one-room opportunities in the market," Henry Itami, executive general manager of radiation therapy systems division at Hitachi Ltd., told HCB News at the time. "Hitachi will continue to support the multi-room system, as there are still such opportunities out there, but our focus on providing the best one-room solution, where not just the technology is important but also the size and cost of the system, will increase."