A new and improved alternative to muscle-controlled robotic prosthetics has been developed by researchers from the Imperial College London.
To control the prosthetic, the patient has to imagine controlling a phantom limb that is performing an action. The prosthetic will interpret the signals that are sent from the spinal cord and turn them into commands.
"Following the targeted muscle reinnervation (TMR) procedure of rerouting the nerves that are used to initially drive the amputated arm, the first goal is to establish strong muscular contractions, which will elicit detectable electromyographic (EMG) signals," Dr. Ivan Vujaklija, postdoctoral researcher at University Medical Centre of Goettingen and guest researcher at Imperial College London, told HCB News.
"Once the EMG is picked up by the sensors across all of the reinnervated muscles, therapists start working alongside patients in order to ensure the repeatability of these contractions," he said.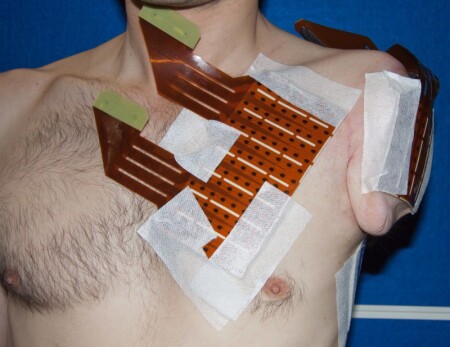 The image depicts the noninvasive sensor matrices, which contain over 400 electrodes, a critical piece of the sensing hardware of the prosthetic.
Six volunteers who were either amputees from the shoulder down or just above the elbow participated in physiotherapy training to test the effectiveness of the prosthetic. The researchers found that, compared to the more traditional muscle-controlled prosthetic, the new prosthetic allowed for a larger range of motion.
Muscle-controlled prosthetics are usually only able to perform one or two functions, since the user has to twitch a muscle in their arm or shoulder, where the muscles are often damaged.
With the new technology, volunteers were able to move their elbow joint and move their wrist from side to side. They were also able to open and close the hand, essentially having the prosthetic perform all basic functions of a real hand and arm.
The image below illustrates how the prosthetic arm functions.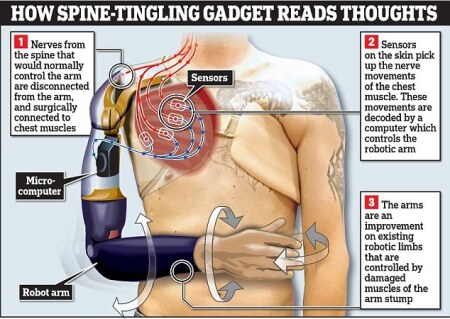 "Our computational approach allows the establishment of a man-machine interface, which enables us to decipher users' motion intention at the spinal level," Vujaklija said.
Depending on the type of amputation, the rerouting of the nerves is sent to the pectoral or bicep muscle. To create the technology, the team had decoded and mapped some of the information in the electrical signals and then interpreted them in computer models.
"By reengineering this entire pathway, we gained access to the original neural code at the spinal level that used to drive the amputated arm, and now we intend to use it for driving the prosthetic device in a similar way," said Vujaklija.
At the moment, the technology is at a laboratory-based proof of concept. The next step is to test the prosthetic across a larger group of volunteers with different limb deficiencies.
Ultimately, the researchers hope to discover the meaning behind all the electrical signals so they can program a full range of arm and hand functions in the prosthetic.